I know everyone loves to read online earnings reports from people making money online at home, so here is my latest report. This includes any payments I've received during the month of November 2012. These payments usually reflect the sales and earnings I made from 60-90 prior to being paid. This is mostly my earnings from the month of September. Most companies pay out commissions after a certain wait time, such as 60-90 days, to make sure the orders weren't returned. This is pretty standard when you are doing affiliate marketing type of income.  Please note that links in this post and on this website may be affiliate links that earn me commissions.  If you choose to use my links, I would like to thank you in advance for helping me earn an income online.
Squidoo: $1148.35
Local Small Business Marketing Services: $607.80
Amazon Associates: $471.66
Zazzle: $665.03
Mr Rebates: $261.20
Google Adsense & Google Affiliate Network: $155.10
Jaaxy: $96.00
Viglink: $254.20
Ebates: $65 (only pay quarterly)
Commission Junction: $0
Linshare: $0
ShareaSale: $0
Market Samurai: $0
AllPosters, Art.com: $0

TOTAL Income Received in November 2012:  $ 3724.34

Year to Date Income:

January 2012 $ 1,421.66

February 2012 $ 4,508.30

March 2012 $ 2,116.50

April 2012 $ 3,213.97

Total 2012: $ 35,985.12
My Squidoo Income
My Squidoo earnings are from multiple Squidoo accounts that I have for a few different niches.  But it doesn't include one account in which I give the earnings to my teenage son. Squidoo continues to be a steady earner for me. I've earned more than $1000 per month every month this year except for one month (May). Most of my Squidoo earnings are from eBay commissions and the ad revenue share, which is based off your average lensrank for the month. The majority of my Amazon links on my Squidoo lenses are my own links which are paid through the Amazon Associates program, which you can see my income on that line item. I like to use SquidUtils.com poster links for my Amazon products, even though the owner takes 10% of the impressions. So my Amazon income is probably 10% lower than what it could be if I made my own links. But I'm willing to give up 10% of my impressions for the convenience and ease of use his poster ads provide. They save me a ton of time. And time is money.
The Squidoo income is based off of about 248 lenses, although 43 of them are ranked so low that they don't even show up, they are considered "Works In Progress" because they don't get any traffic.  So they don't have a chance of earning anything.  My lenses that sell products the most consistently feature hard to find items that people buy on eBay.  My lenses that get the most traffic, and therefore make the most in ad revenue share from their lensrank average, are lenses that I wrote using urls, titles, and tags based on keyword phrases with low competition as defined by the Jaaxy Keyword Research Tool.  They have a free trial, after which it's $19 per month, and well worth the money in my opinion.
But almost all my other income sources, with exception of my Small Business Marketing Income, is somehow derived from my Squidoo lenses.  For example, my Zazzle income.  I promote Zazzle products for sale on Squidoo lenses.  So even though Zazzle is the one paying me the income, Squidoo is the avenue that I use to make that income.  I've been experimenting with setting up my own websites to promote Zazzle products, but they don't get near the traffic that my Squidoo lenses get.  That's why I really like using Squidoo.  Google loves them.  So if you find the right keywords you can get good traffic to your pages.  It's much easier than starting a brand new website on your own.  And because it's free, the cost of setting up the pages is only your time.  Plus you don't have to deal with any IT problems if something is not working right on the website.  Trust me, this is a huge bonus.  However, of course there are drawbacks.  If Squidoo shuts down, decides to stop letting people add affiliate links, or something of that nature, then I'm really screwed.  Most of my income is somehow tied to Squidoo.
My Zazzle Income
In the summer I started adding many more pages featuring Zazzle products and my sales and income has increased accordingly.  I had 27 lenses dedicated to Zazzle products, and created another 39 lenses during the month of September. Zazzle pays on the same schedule as Squidoo, so payments I received in November were for sales made in September.  I'm excited about how this income might keep increasing as I make more pages.
I also started putting my own products up for sale on Zazzle.  For this pay period I sold 10 items from my own stores.  The remaining sales were referral sales, in which I referred the sale of someone's else product.  I had 67 referral orders.  Most were for one item, but I had a few that were wedding invitation orders so they ordered multiple invitations and rsvp cards.
Referral sales are really easy, because you can choose the best looking products that you like, and promote only them.  Even if you don't have design skills, you can still set up a beautiful "shop" with really cool items designed by other people.  You still earn the base commission of 15%, plus volume bonus.  This is how I started making money on Zazzle, exclusively referring.  You can read more about how easy it is to get started making money at Zazzle by referring here:  http://fivegreenlizards.com/the-easiest-way-to-get-started-making-money-on-zazzle/.
If you are thinking of promoting some Zazzle products and earning commissions, the sale of phone cases spikes right after Christmas when all the people who unwrapped a new iphone 5 for Christmas now need a case.  So if you want to earn 15% – 32% commissions, you can promote some of my iPhone 5 cases.  Just go to the product page, then use the "share" buttons to share on Facebook, Twitter, Pinterest, or grab the html code to embed it on your website, blog, or Squidoo page.  Make sure you are logged into Zazzle first, and then your affiliate code will automatically be attached.  I'll put some of my Zazzle iphone 5 cases at the bottom of this page.
And as I mentioned last month, don't forget to sign up for Mr Rebates, which gives you cash back rebates on your online shopping.  Now, with the Christmas shopping season upon us, is a great time to take advantage of the free money they give back to you on your purchases.  They also have a great referral program which gives you a referral bonus EVERY time someone you refer gets cash back on their shopping.  So just refer someone, they will earn cash back on their shopping, and every time they earn cashback, so will you.  Mr Rebates continues to make me a few hundred dollars every month.  I love that they help save you money on shopping.  And don't forget about small business expenses.  I even get cash back rebates on domain names and web hosting from GoDaddy.
With all these various income sources I use a free web software program called Outright that helps me keep my income and expenses organized, which is especially helpful for income tax purposes.  I use the FREE version.
Once again, I want to note how happy I've been using the Jaaxy Keyword Research Tool
.  It helps me find a phrase that Google picks ups and sends me traffic for.  By knowing that there's not much competition by using a specific phrase, I can use that in my urls, titles, and tags, and get traffic.  Yes, there is a monthly fee (after the free trial), but I wouldn't be making the money I am now if I weren't using Jaaxy.  I'm happy to pay $19 a month in order to make a few thousand.
Here are some of my newest iPhone 5 cases for you to promote and a brand new design for a 2013 mousepad calender for entrepreneurs.  You'll earn 15% – 32% commissions.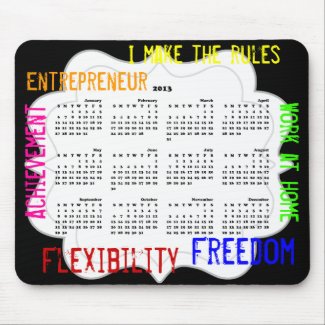 Powered by Zazzle Affiliate Helper